Recent Atlas Improvements
This blog post is more than two years old. It is preserved here in the hope that it is useful to someone, but please be aware that links may be broken and that opinions expressed here may not reflect my current views. If this is a technical article, it may no longer reflect current best practice.
This post was originally posted to the Tor Project blog. If you would like to comment on this post, please do so there.
---
Atlas is a web application to learn about currently running Tor relays and bridges. You can search by fingerprint, nickname, country, flags and contact information and be returned information about its advertised bandwidth, uptime, exit policies and more.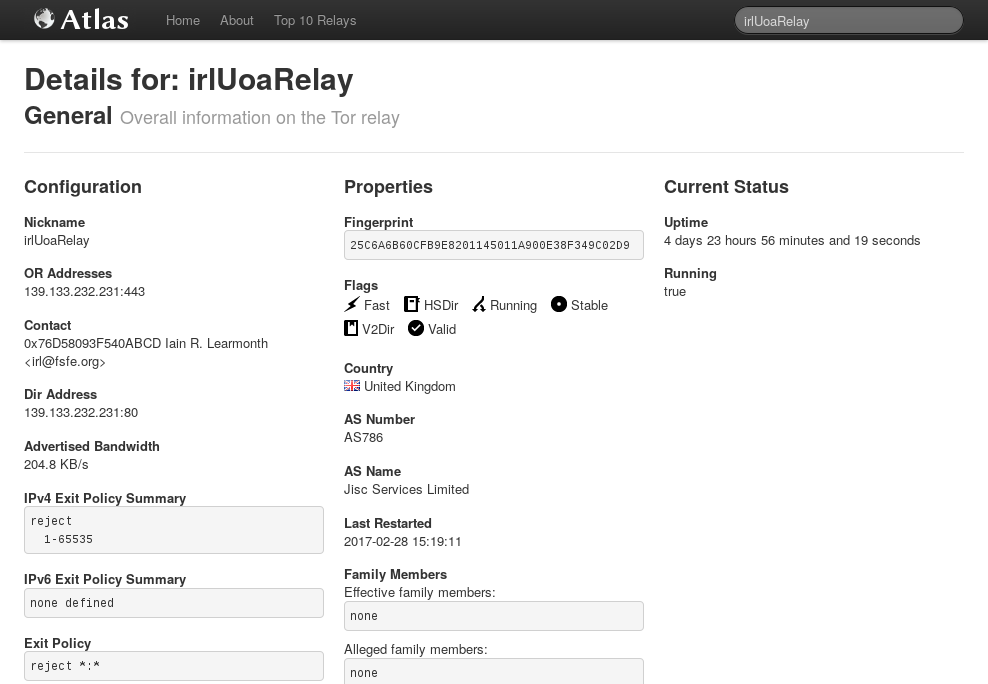 I'm taking this opportunity to introduce myself. I'm Iain R. Learmonth, or just irl on IRC. I began contributing to Atlas in June last year, and I'm currently serving as the maintainer for Atlas. We have made some usability improvements to Atlas recently that we are happy to share with you today.
Thanks to the work of Raphael and anonymous contributors for their help in producing patches. We will continue to work through the open tickets, and if you have a feature you would like to see or spot something not working quite correctly, please do feel free to open a ticket for that. If you would like to contribute to fixing some of our existing tickets, we have a new guide for contributing to Atlas.
Improved Error Handling:
UX Improvements:
Standards Compliance:
---
If you would like to contact me with comments, please send me an email.
If you would like to support my free software work, you can support me on Patreon or donate via PayPal.
---
This post was syndicated on: